HANDMADE FRESH THE TRADITIONAL WAY
RIGHT HERE AT THE RESTAURANT
We are one of only a few tofu producers in the US, and the only commercial tofu producer in the South. We make our fresh premium tofu following traditional Chinese recipes.
The first step is to soak the raw beans overnight and then mill them with a constant stream of water that makes a raw soy milk. We pasteurize the soy milk then add a combination of calcium and magnesium and let it set. This process creates the soy curds. Last we ladle the curds into presses to squeeze out the water and create our fresh tofu cakes. We add no preservatives in this process. We make our tofu with raw, non-GMO soy beans; water; magnesium (extracted from sea water), and calcium sulfate. That's it.
Why Our Tofu Is Different
Aside from being the freshest tofu possible, our premium tofu is especially formulated to hold up to wok frying or grilling which inherently gives it a much firmer texture than most people expect. It's more dense than the "extra firm" tofu found in stores.
Our Extra Firm Tofu Cooks Differently
Extra firm tofu means it can take a good bit of handling and still hold together. The dense texture is still moist and bites more like a clean white meat. It will even soak up open flame flavors on the grill. Basting a little of your favorite cooking oil (we used organic coconut oil in our test) while cooking will allow the edges to get charred and crispy too.
We also tried deep frying small slices into crispy chips. They turned out to have a similar crunch as bagel chips and were stout enough to scoop up our house made hummus without breaking.
Since we control every step of the process our fresh premium tofu is like no other tofu sold in stores or other restaurants.
*This is also why our tofu cost more to produce. We squeeze out more of the water content so it takes more soybeans to achieve the desired density in our premium tofu.
Our extra firm tofu can absorb liquids without falling apart, which makes it ideal for marinades and sauces. You can see how much Braggs Liquid Aminos one side of this tofu block absorbed overnight.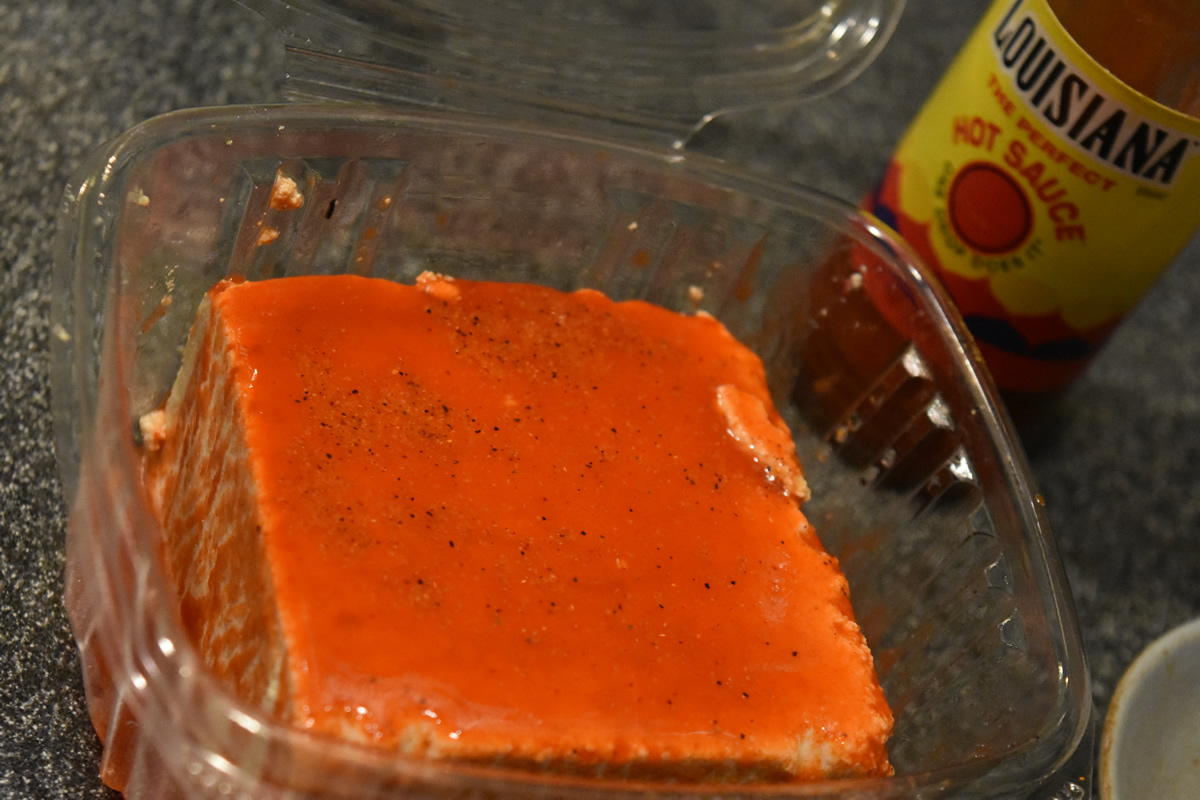 Try marinating overnight with hot sauce for a no meat "Buffalo wings" flavor. The bio degradable containers they are sold in at the store are perfect for adding liquids. No extra fuss or transferring containers needed.
Every bowl on the menu comes with a tofu option as the protein and you can order fresh blocks of tofu at the counter from our grab & go case or at the drive thru or call in an order for pickup.
904-379-1291
*Ask about larger quantities in advance if you need more on a regular basis for meal prep.